Introduction
Welcome to MapCollaboratorTM for CPAD!
Use the CPAD Edition of MapCollaborator to help GreenInfo Network improve the California Protected Areas Database.
Before adding or editing data, please review these EDITING GUIDELINES.
Choose from the actions below to review parks, add comments about parks, propose the addition of new CPAD units (drawing on the map or upload your own GIS files), or propose the reshaping of existing units.
Comments and edits submitted in CPAD MapCollaborator will be reflected in the twice yearly CPAD updates and will not appear on this map until those updates are released.
To get notices of when updates to CPAD are published, sign up for our notification list.
Recognition of Indigenous and Native Lands
The GIS data in CPAD and CCED are based on land ownership or legal easements that restrict how lands can be used. The ownership focus of the databases is intended to assist in the planning, management, and long-term care of lands owned by government agencies and nonprofits for open space purposes. The lands represented here are the traditional unceded territory of more than 100 nations. To learn more about a particular territory please visit the California Native Heritage Commission's Digital Atlas.
We recognize that the Western perspective of land ownership is limited and does not reflect an important range of cultural views, especially of many Indigenous peoples. Furthermore, land ownership as a structure has been used to promote empire and colonization.
These data represent only one lens of how to view California's landscape. CPAD and CCED are not intended to represent, replace, or negate different cultural views of lands such as spiritual ownership, stewardship, or caretaking.
As we seek to respect the many diverse Indigenous people connected to this land from time immemorial, we welcome feedback on how to improve and address non-Western perspectives and how to respectfully represent them. Email us at cpad@calands.org.
Zoom to a location
Choose a location by using the zoom tools on the map, search for a location below, or pick a location from the list.
City
Cong. District
County
Search
Location Search
City
County
Cong. District
Post a note on the map
Click the button below to start, then move your cursor to the location of interest. Click on a precise location to place the note marker, and then fill in the information in the form. Choose save, or cancel to exit without saving.
Add an area
To add a new CPAD unit, zoom into a location on the map, then click "Draw an area" button below to start. Click on the map to add vertices, then double click to finish the shape. Fill in details in the form. Click save to save your suggested edit, or click cancel to exit without saving.
Or, use the Edit button to click an area on the map and submit a recommended edit.
To add an area by uploading data, use the "Upload Data" section below
Upload data for review
CPAD version 2022b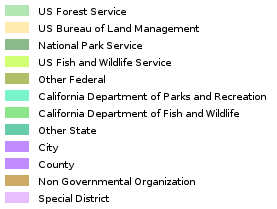 Uploaded files